International
Sports
A savage and sadistic way to go out' – Italian press reacts to Juventus lost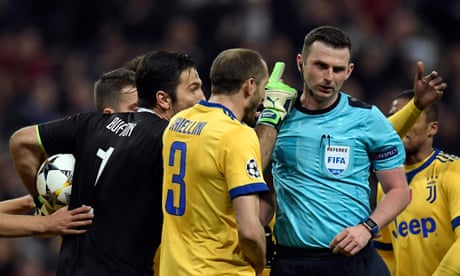 There was considerable anger in Italy after Michael Oliver's late penalty gave Real Madrid a 4-3 aggregate win over Juventus.
"Not like this." Those words recurred over and over throughout the Italian media's coverage of Juventus's Champions League elimination, with Tuttosport turning them into a front-page headline. There are occasions when the Turin-based newspaper's journalists seem to witness games very differently to those elsewhere on the peninsula. This was not one of those times.
"If there is a savage and sadistic way to be eliminated, then this is it," wrote Fabrizio Bocca in La Repubblica. "Better, much better, to go to the Bernabéu, lose the match and amen. See you again next year. Like this, no, like this everything stays open and everything feels unfinished, like a door slammed in your face."
And who had closed that door, exactly? Not Madrid, not Cristiano Ronaldo, even if his penalty was beautifully struck. There was little more than a grain of criticism to be found for Mehdi Benatia, whose injury-time challenge on Lucas Vázquez led to the spot-kick.
Instead, the focus fell squarely on the referee who had awarded it. "If Mr Michael Oliver, United Kingdom, 33 years old from Ashington, wanted to put his name down in history then he succeeded," wrote Tuttosport's Guido Vaciago. "Real Madrid will not easily forget him, honoured as they were with a penalty that perhaps was not counterfeit, but certainly generous.
"Juventus will not forget him either, a dream snatched away, that is if Gigi Buffon dreams, he who Mr Oliver sent off just to be sure of adding a legendary touch to his display."
Analysis of individual refereeing decisions are a regular feature of Italy's sports pages. There were subtly different takes from the various "moviola" (replay) columnists, with some defining the penalty as soft and others as an outright travesty. Even those who could see why the incident was punishable under the letter of the law still argued that Oliver should have read the situation better.